The arrival of The Hawthornes' latest album "The Hawthornes" in my music collection has been a much needed breath of fresh air in my own musical journey that seemed to be stalled out by listening to tired and predictable genre retreads from artists well past their glory years, or hollow, short-fallen emulations of those same bands by new artists producing only faded facsimiles.  I was hungering hard for something fresh and was given hope by the pre-release of the album cover art for "The Hawthornes" (cover artist: John Blackburn) that the album just might deliver that lift  I so desperately needed.  In short summation: I was not disappointed – It absolutely did. Self produced, and mixed by John Pfiffner and mastered by Ty Tabor, "The Hawthornes" is currently on heavy rotation at home and in my car/on my phone and will be for some time.
The core of the band consists of Mike Prescott (guitars), Christopher Freeman (bass) and Rob Bowser (drums & Keys), and the ever-so-smooth vocal styling's of Ade Herbert (lead vocals).  Guest artists include Greenville's own hip-hop survivor Supastition, Dr James Armstrong & Tony McCullough on Trumpet & Sax, with additional percussion by Derrick J. Hines as well as a few other surprises. What is most obvious from knowing these musicians and this album is how they managed to distill a lifetime of musical experience into an essence that they captured and organized into this neo-soul fusion of spectacular urban cool. There's a maturity here that I can only suggest by way of analogy that is like being in the arms of an experienced lover — you know from that first touch that they know things and your experience is about to be amplified by that knowledge… Well this band knows things — you can hear it almost immediately when you start to spin the album and you can listen with confidence knowing it's going to be something else!
The album opens very strong with the nearly perfect "Truth 2 Power"; A tour-de-force that combines funk, rock, soul, blues, jazz, R&B, & some tight street/beat poetry that absolutely speaks truth 2 power but doesn't drown in cliché. The message is delivered like a laser guided bomb, but is carried deep into the brain by an infectious groove that pays homage to Buddy Miles & Sly, with a Hendrix-like guitar boogie that conjures up the ghost of  early Chili Peppers Hillel Slovak. There are some great acid jazz textures and rhythms here with just enough grit & sauce to satisfy, but leave you slightly wanting. There's some great use of media cut-ups as well (see if you can identify them) that parallel the song's theme and the mid-song collaboration with Supastition, who delivers the verse & the punch, coupled in contrast with Ade's ultra-smooth vocal textures, is so compelling that you'd almost want this pairing to appear on every track in some combination It's that monster. "Truth 2 Power" needs to be heard!
"Do Betta" somehow evokes Allan Holdsworth's "Metal Fatigue" and Herbie Hancock's "Chameleon" at the same time, and features some great changes that are beautifully executed on the guitar. There are some angular lead lines there that are almost geometric in form, and immediately made me think of South Africa's Trevor Rabin. You could argue that the Prescott/Herbert pairing of guitar/vocals has parallels to Rabin's work with Jon Anderson and the 80's incarnation of Yes. There's definitely magic when a smooth voice like Ade's is paired with that style of guitar playing. The Hawthornes definitely have the recipe in hand.
By the time I got to the album's 4th cut, "In your Eyes" I was just digging on Ade's voice so much that I almost started crushing. His delivery there is so gorgeous I wanted him to be singing  "In Your Eyes" to me, and I'm a dude…
"Dances in the Rain" is another strong song and that would have been right at home on a Toto album in a different incarnation – it has some amazing Lukatheresque guitar tones and runs in it, with that classic big chorus feel that isn't over-wrought. That's a tough thing to pull off when you are playing with such gentle textures but the band does it, and there's some great percussion work in there as well that gives the track its motor.
"Keep Pushing" draws some comparisons to Living Colour (which could also be said of "Truth 2 Power") – but without the harshness you find on a typical LC track. The groove is rounder and the tones less abrasive. It gives the track a broader more welcoming feel until it reveals its true heritage; It's really a mashup between Living Colour and the Nevilles —– Think "Glamour Boys" meet "Hercules"….. In fact the Living Colour comparison is really just a mask to deliver the sweetness and bounce you get with the Nevilles – that's the real influence here and it's huge!. Great great stuff – I keep coming back to this one.
"Unstoppable" has an awesome opening guitar figure that works like the brushstrokes of an impressionist painting. In that way it has a real Alex Lifeson quality to it which is further reinforced when the track kicks off into rock-riffage territory (I immediately thought of Rush's Presto album era). Mike's harmonized guitar work after the chorus into the second verse was pure Don Felder circa 1981 —- I'd say this track was my favorite except there are several others competing for that position so I'll just say this one is really special and if you put it up as the best track on the album I'd have a hard time arguing against that.
"What If" features a gorgeous & melancholy trumpet – and dare I say banjo?  I Didn't expect to hear those two elements together on a neo-soul, urban American acid jazz treatise !  The bass is really top on this cut as well. A quick check of the liner notes reveals the banjo was indeed a banjo played by guest artist Joel Barnett. Sweet! The bass is also in real top form here, providing the bed that carries the song with Ade's vocals. I might have wanted the lyrics to tell a different story – such was the melancholy of the trumpet – but it did find its resolution in the closing lyric…. What if indeed! Well played guys – that one got me in the 'feels'!.
"Whatchugonedoo" is another tight track with some fantastic percussion.  Nice to hear Ade step outside a bit as far as vocal textures go here as well. There's also an amazing 80's style synth patch on this that has to be heard to be appreciated. Supastition also returns again in that winning combination with Ade that really gives this song the kick it needs. The delivery of his verse really holds its own with the percussion, making this a strong track for the whole band. Loved it.
"Drive Me Wild" – Just my favorite track for sure – monster guitar – sophisticated as hell — and I mean that in a great way.  Probably my most favorite song on any album this whole decade let alone on this album.  It's dark, brooding, majestic – I could start listing adjectives but then I'd just be dribbling all over myself.  I get lost in this all the time and have probably played it 30 or 40 times on soundcloud since it was first shared as a preview last year.  Just monster goodness and I think it features every member of the band in peak form and unity. And the arrangement is just amazing.  Lightening in a bottle!
"Seduction" is a lovely piece — it too has some Lifesonesque guitar work again with some Herbie Hancock & Stevie Wonder vibes…… this one really grew on me as the song unfolded.  Mike shows some great restraint on the guitar and there are some real surprises during the breakdown/bridge to digest before returning to some of the Lukather styled runs we heard on other tracks, and finishing with a pinch of Sco ( John Scofield). It's a fantastic track and a strong album closer before the bonus track.
Bonus Track: "Funky Gibber" – dug it – nice fitting little good bye for the album…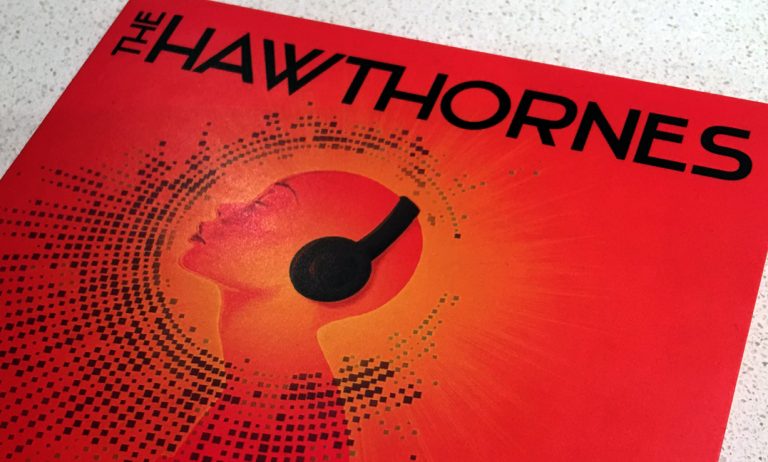 In summary – this is a very sophisticated and adult album presented by musicians that clearly love music and have studied and played for a long time to distill that experience into something that pays homage to their influences while simultaneously carving out a very unique bit of musical space to occupy.  What I really want is to hear/see is this band perform live. I can imagine that outside of the studio, and up on a live stage, this band could reach silly heights of musical goodness that would leave an audience transfixed like a good preacher does after a rousing sermon. That's me  saying I'm certain this band could take us to church in the right temple!
On guitar Mike Prescott is obviously a great player and these songs and compositions speak to him being a very unique guitar talent that really deserves more exposure and recognition.  I've heard similar musicianship from lots of Berklee/Jazz program guys, but what you don't usually hear from those guys is this kind of solid songcraft that has roots level appeal, with the compelling hooks and musical turns that make stuff exciting and fresh for all audiences, but also speak to the schooled musical ears that might be listening. Mike's got that – he's like a cross-over artist in that respect. I thought of Holdsworth, Lifeson, Lukather, Scofield, Reid, Rabin, Cropper, Hendrix, Slovak, while I listened to the album, but never once thought he was copping anyone's style or bag. Mike's a guitarist with an extensive colour palette available to him to paint with, and he found a way to use it all without overwhelming the canvas.
Ade Herbert is an absolute superstar vocally — and it's clear he's still finding his confidence with his voice which makes discovering him here and now even more exciting – I'm hoping that he continues to grow with this band because he's really got something special to offer that I think some of that is still only suggested here – and what's here is awesome so imagine what's next!
Drums & Keys on this album are top shelf. Rob Bowser plays both and he drums with the tightest of pockets, pushing the beat forward as opposed to letting it drag. This kind of 'cool-time' vibe gives a cool-jazz precision to the tracks, but doesn't crowd out the space in the songs. It lets the vocals find and define the deeper pockets in the music and leaves lots of space for those longer lyrical passages that Ade delivers like he's weaving in a loom. Rob and Mike must work very close together because you can feel the marriage between the two of them on nearly every song.
Christopher Freeman's bass was strong throughout the whole album as well. He keeps the bottom richly dark, and punctuates with just the perfect amount of flourish to let you know he's got the chops but he's holding the groove and is in service to the groove first. I never once paused or was pulled out of the mix or the groove by an overly busy transition – that speaks volumes to his sensitivity and service to the groove and the songs. He's the invisible, yet very obviously present thread that holds the whole exercise together, providing the foundation for the vocals to lay on, and the road-map back in for the drums and guitars when they sparkle about the outside. That's the definition of bass – It's the pillar of strength on which everything else stands – the bass is base!
Probably the most exciting thing about this album for me is already the idea of a follow up. I want to know what this band sounds like after gigging with these tunes for 10 to 18 months.  I think the road, and the energy of the audiences, will add another dimension to their performances and we'll see these songs evolve with an even greater edge as they get away from the clean environment of the studio, and drink a bit more from the messy-cup that the road throws up. I hope they also get a chance to tour with Supastition because I want to see him and Ade bust it out together in form.
I'm not sure when the next series of dates starts for the Hawthornes but I'm certain you wont be disappointed by checking them out and picking up this album (available on CD baby & iTunes as well as from www.thehawthornesmusic.com) I think 2018 going into 2019 is going to be a great year for them and they will be a band to watch out for.