It's a very simple question and the answer should be a resounding yes.  If it isn't, then you are drinking your coffee at the wrong place. It's not an issue of fancy coffee or coffee snobbery vs. coffee for the common man, it's an issue of really bad vs. really good.  Your social class or age demographic has nothing to do with it – nor should it.  If anything it's a declaration of a universal manifesto where we all should stand as one: Nobody should be drinking bad coffee.
Cappuccino:  What is it?
A traditional Italian-styled cappuccino is a 5 or 6oz drink based on thirds – 1/3 espresso, 1/3 steamed milk, & 1/3 textured milk. Where's the foam you ask? There is no foam in a cappuccino per say — foam is a frothy airy mess that's a byproduct of blowing bubbles into soapy water, or farting into a sudsy bath. Textured milk is the byproduct of steaming milk and stretching its proteins while introducing air to create a thick, rich, velvety smooth liquid that feels sexy on the mouth and pours with the consistency of very thick cream.  They call this micro foam. There are no visible bubbles – just pure velvety goodness. Done correctly a cappuccino is an awesome drink that's neither too filling nor too effete – it's a perfect little drink that allows the coffee to punch through the milk, while being boosted and smoothed out by the milk's natural sweetness. No sugar required.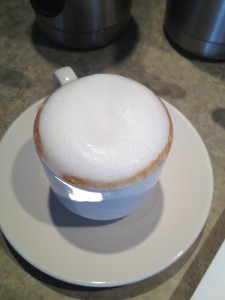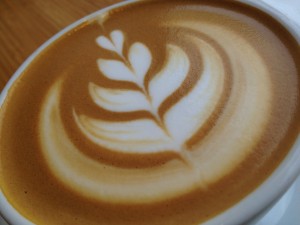 Bad Cappuccino: I Blame Starbucks
Remember Starbucks circa 1992?  Cappuccinos were created by pouring super scalded milk, steamed in large metal pitchers, into a cup of espresso, followed by a couple of dollops of spooned-out foam.  The drink tasted terrible, and required enormous quantities of sugar to replace the natural sweetness of the milk that was destroyed by overheating it, and contained none of the graduated texture of thickened milk to deliver the coffee taste to your tongue.  But these drinks were created as such so they'd be quick and easy to make, and Starbucks could sell you short, tall, and grande versions (and later venti) and that you could still distinguish them from lattes.  In the Italian style there's no such thing as a 16oz or 20oz cappuccino and people who ordered one at Starbucks usually asked for them wet which basically meant they wanted less airy foam – perceiving it as a rip-off in the same way people see too much ice in their soft-drink at a fast food restaurant a rip-off – so they essentially ordered (and received) a latte without knowing it.
Other reasons for the existence of these poorly conceived and constructed drinks were that very little skill was required to create scalded foamy milk to pour and scoop over espresso.  And no one would know any better because a trip to the sugar and condiment station was as expected as ketchup on french fries, and could be further dressed (at an up charge) with a couple of pumps of flavored syrup.  It was win-win for Starbucks, but a big loss for consumers as the spoons made claim to the bar landscape and the mighty cappuccino of the Italian tradition took a back seat to lattes and americanos and the blended drinks so popular today.
Why Latte Art is So Important
Today's bad cappuccinos are simply remnants of yesteryear when consumers and coffee shop owners didn't know any better, but they are still out there.  The good news is that you don't have to settle for one anymore.  Most people understand that cappuccino's don't (shouldn't) come in 20oz sizes, but the soapy looking airy foamy mess, and the spoons baristas use to scoop, have still been slow to retire.  That's why latte art is so important (latte art: those pretty little patterns of hearts and leafs that are created when you pour textured milk into espresso).  It's this simple: you can't create latte art with badly steamed and textured milk.  Things can still go wrong – the espresso can be bad, the milk can still be scalded, the ratio of the drink can be off – but it is less and less likely to happen in shops that have developed the ability to pour latte art simply because an acquired skill-set is necessary for the barista to pull it off.  It literally forces the hand of your barista to make better drinks.  Latte art isn't about fancy, it's about quality.  It's a quality hallmark.
When you go into a cafe, the presence of latte art should be a make-or-break indicator that determines whether you should stay and order, or walk out.  If they are pouring art then there's at least a fighting chance that they'll get the rest right too.  Without it, the likelihood of you getting a decent drink is almost zero.  And we haven't even talked about espresso yet.  Crazy huh?